The 2023 StockGame is here!
Click here for information about the StockGame. The fifth week's results have been posted. Check back each week to see how you're doing!
We are working on new adult education offerings and want to hear about your interests. Please click here to complete a short survey to help shape our future offerings.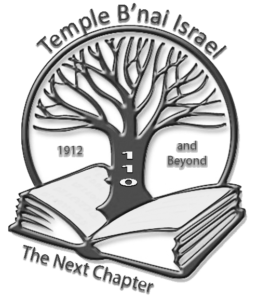 The Next Chapter Campaign
At Rosh Hashanah services, we announced the beginning of The Next Chapter Campaign. The campaign has two goals: to support current Temple operations and to create a fund to upgrade, enhance, and beautify our cemetery.
Click to watch the video.
Shalom! Welcome to Temple B'nai Israel!
Temple B'nai Israel (TBI) is a traditional Reform congregation located in White Oak, PA, about 15 miles southeast of Pittsburgh. Our members come from Monroeville and the eastern suburbs, Fox Chapel, Shadyside, Oakland, and Mt. Lebanon and the western suburbs.
Belonging to Temple B'nai Israel means that you are part of a supportive and caring community of people who share your faith and values. We are a community of friends. We offer support to those in need, we share simchas and sadness and stories about our lives.
At TBI, we are an inclusive and egalitarian congregation. Together we find meaning in prayer and melodies, Torah messages and adult learning. We are all comfortable being part of the Shabbat and holiday observances, whither we know Hebrew or not. Members have so much in common; no one is a stranger.
Please join us for Shabbat services Friday evening or Saturday morning under the spiritual leadership of Rabbi Howard Stein.
We Are Stronger Together!
Come join us!
Complete this membership application and return it to the synagogue office to become a member.
Click on the above calendar to open a full-size version in a separate tab.
Friday and Saturday morning Shabbat services are conducted both in person and on Zoom. Please contact the Temple office for the Zoom link.
February Temple Talk
The Temple Talk is our monthly newsletter. It includes the monthly schedule of activities, messages from our leadership, and announcements of simchas in our community.